During a recent weekend trip to the southwest Portuguese coast, I had the chance to photograph in the Cabo Sardão area. This is one of my often photographed locations, so it is a challenge to come out with something new, or a different approach. In this occasion, I have planned to tackle two different obiectives. The first one was to photograph the white stork species that lives in the area: this is a unique species of stork, because it nests in the coastal cliffs, and will be the subject for a future essay.
The second objective was to make a few panoramas by shooting a series of photos for later stitching in the computer. There are many sweeping coastal vistas in the area, and sometimes a wide angle lens is not wide enough to encompass the entire scene. For creating panoramas I have been using Panorama Factory, a software that does the job very well.
The first image is a set of 3 photos taken with my Fujinon 16mm f/1.4. The image shows the coast at low tide a short distance away from the Cabo Sardão lighthouse. The hour was close to sunset, so the scene was illuminated with golden light.

Next is the classic view of the precipitous cliffs with the lighthouse in the top. This is an assemby of 6 photos, as above taken with the 16mm lens, spanning a large angle of view; larger than what would have been achievable with only a single shot from my wide angle lens.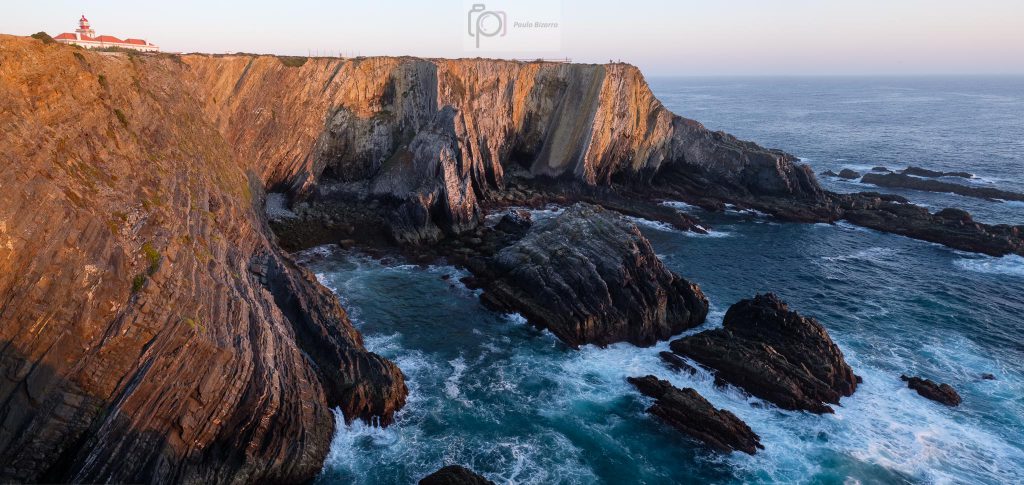 For the third and final image I waited for the full Moon to rise beside the lighthouse. Again, it would have been difficult to get the image with a single shot. This is an assembly of 9 photos taken with the Fujinon 50-140mm f/2.8 telephoto zoom. I like the result because the lighthouse is also lit, as the Sun had just set behind me.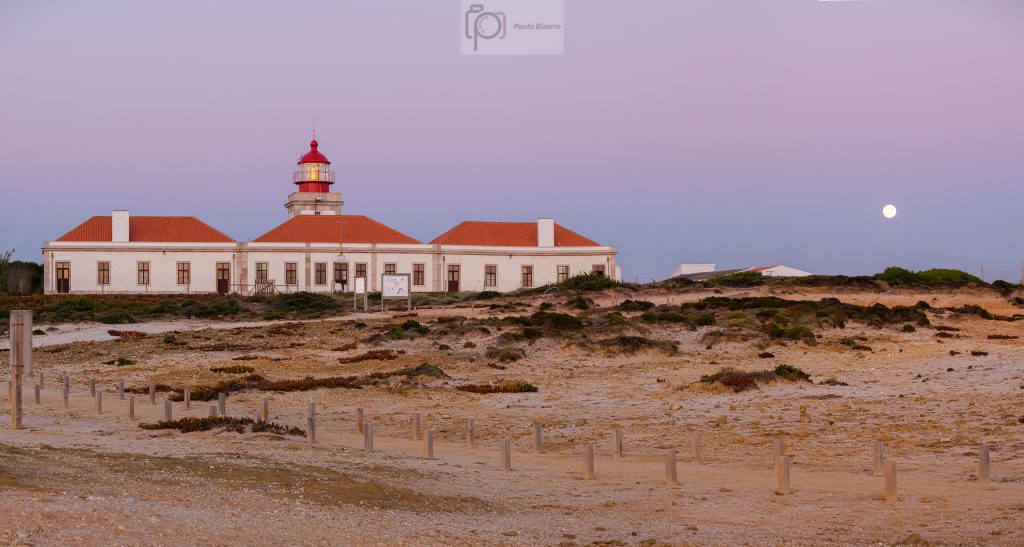 This was an excellent occasion to dust off my panorama abilities, but honestly, these days it is really easy to achieve good results with just a bit of care in the field. For these photos I used a tripod, but this was dictated by the low ISO and concurrent slow shutter speeds. The key concern is to have sufficient overlap between the successive shots, so the software can stitch them correctly.