This walking trail connects the beaches of Amado and Murração in the Vicentina coast of southwest Portugal, just south of Carrapateira beach. It is a short circular route, but it crosses some of the most beautiful and characteristic zones of this region, including steep terrain, deeply cut valleys, and wild beaches. A location map is shown below.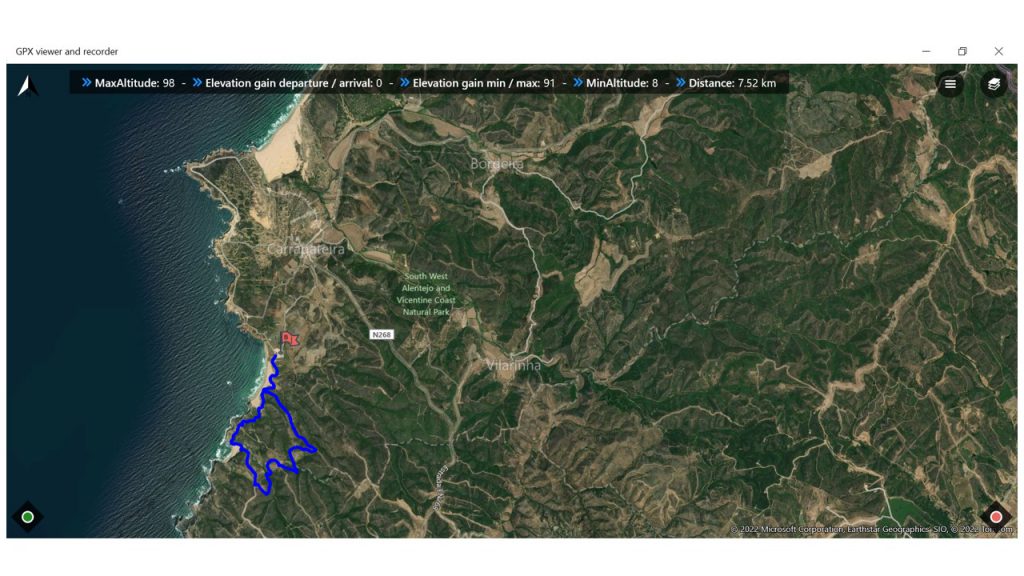 After parking the car in Amado, the trail crosses the beach in a southward direction. This is a very popular beach with surfers, who frequent it all year round. The beach is large, and has some very colorful red and yellow rocks on its northern cliffs. As a side note, besides the natural beauty of the scenery, there are many interesting geological features to observe along this walk.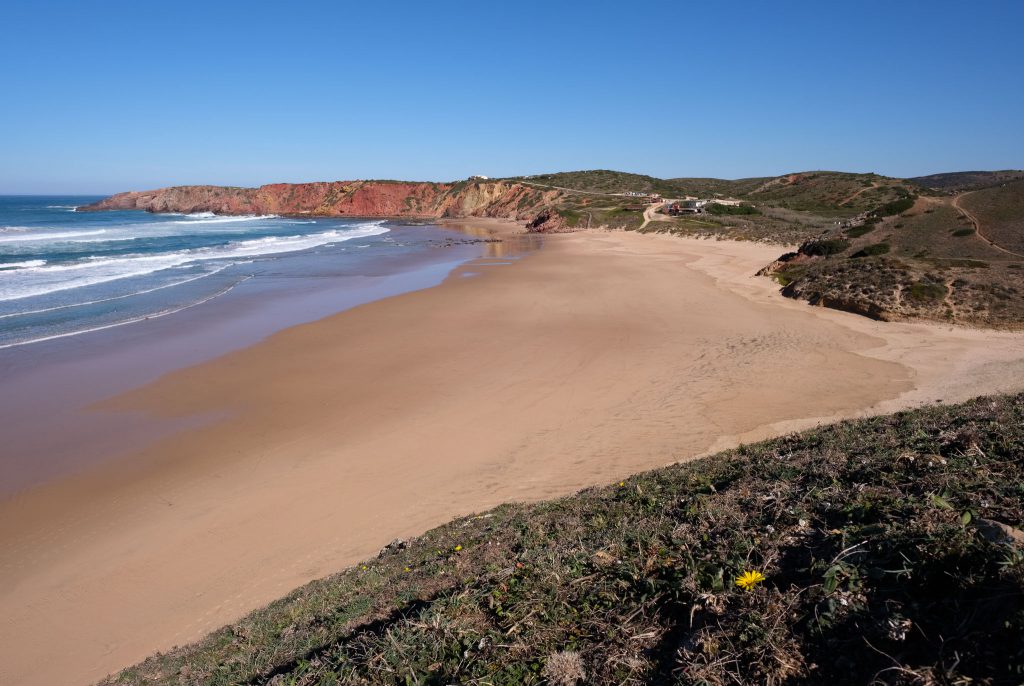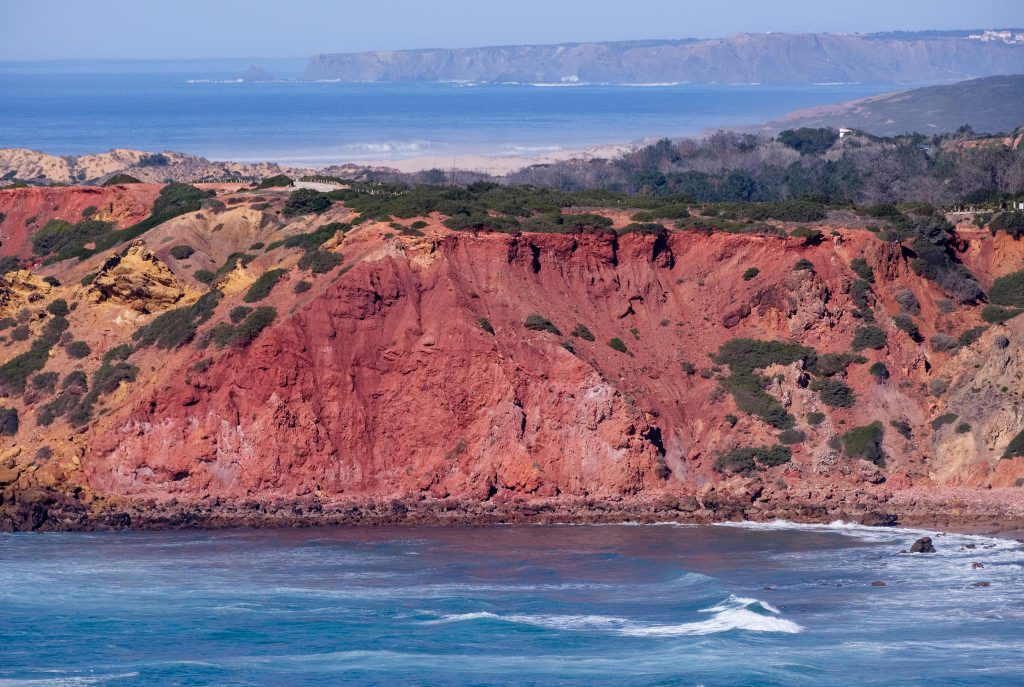 The day was sunny, but with strong winds that are typical of this coast. Leaving Amado behind, the trail starts to climb into the surrounding hills. These have a rounded topography and are covered by short vegetation that clings to the rocky soil. Even though it is wintertime, rainfall has been very scarce, so everything looks a bit dry. In fact, this has been one of the driest winters in Portugal since there are records.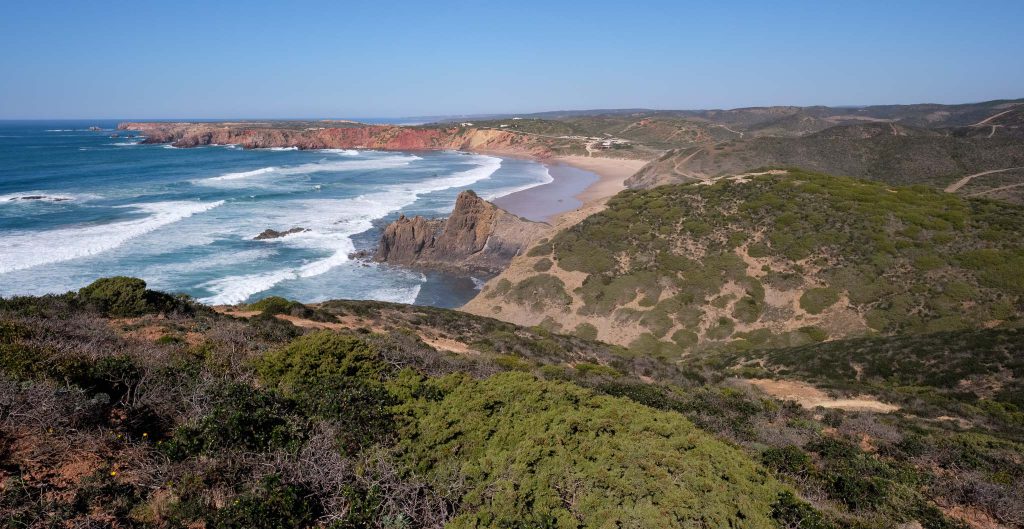 After a few kilometers, the path meanders up and down through steep terrain, crossing a couple of deeply cut valleys and ravines. Even though we are very close to the sea, the sound of the waves does not carry inland. Before arriving at Murração beach, there is a steep ascent up a narrow footpath, at the end of which lies an abandoned house.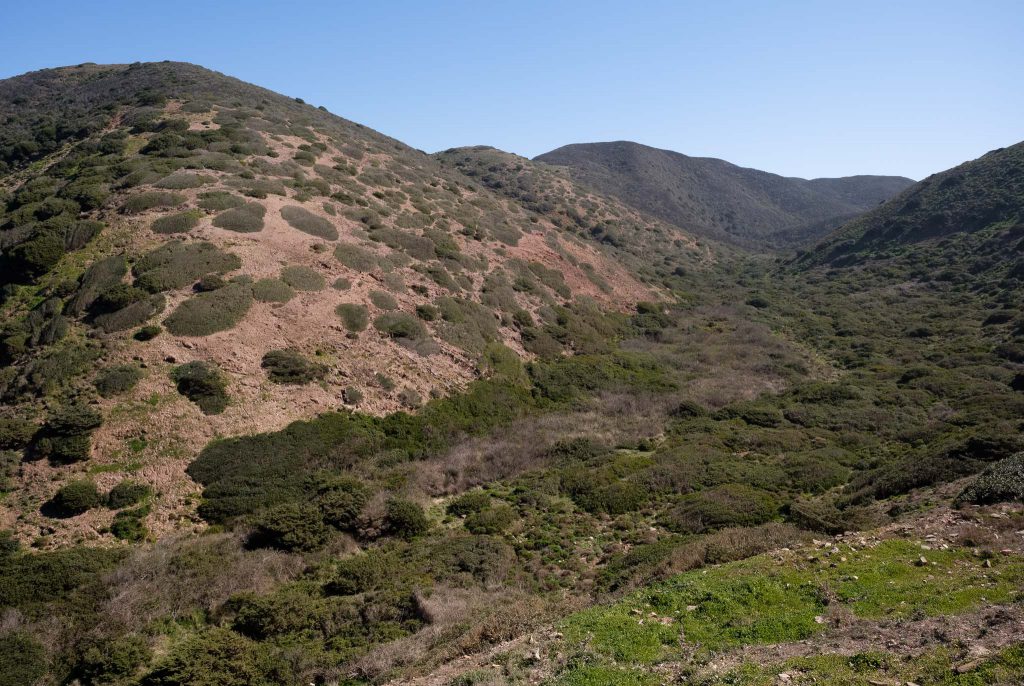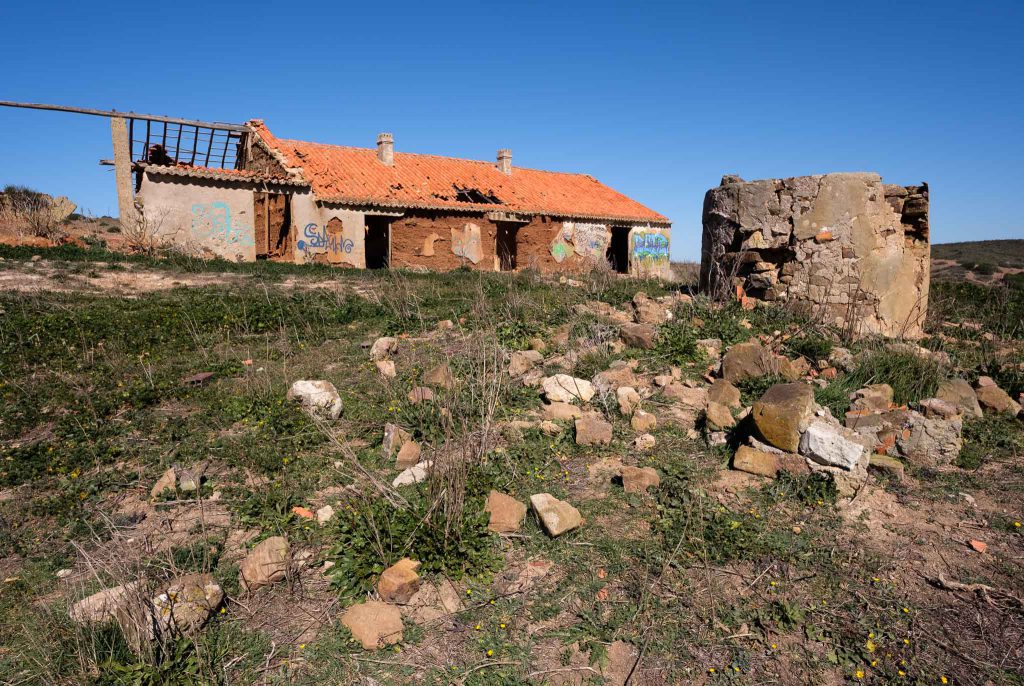 From here it is an easy walk down a rural road to the beach, but I recommend getting off the track for a while, and make your way to the top of the cliff that overlooks Murração. The view over the coast is wonderful, including Murração, Amado, and Carrapateira.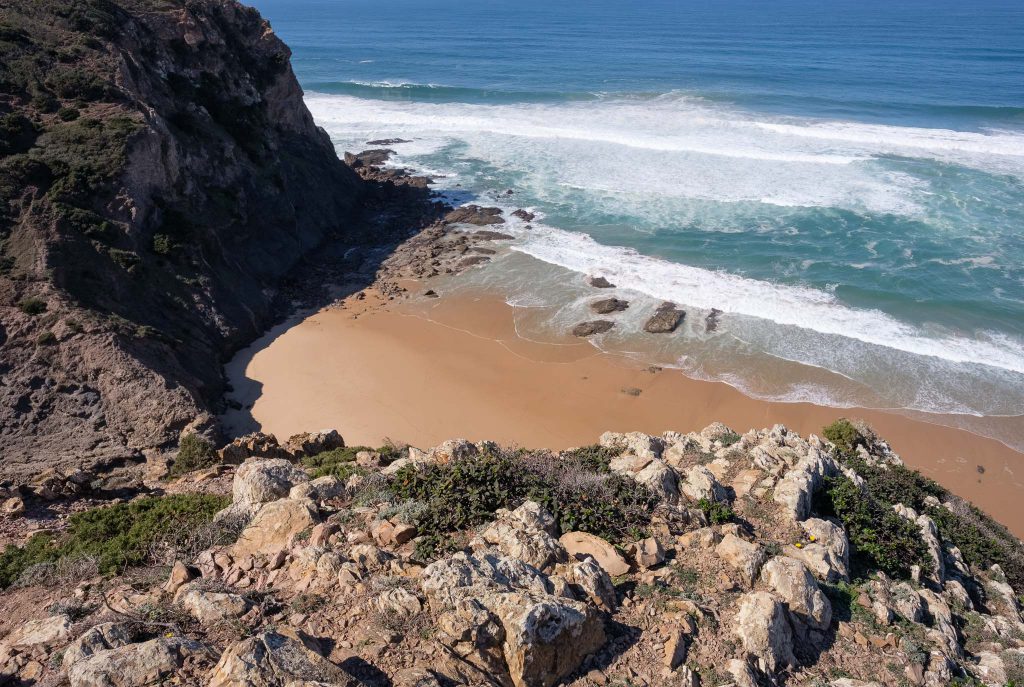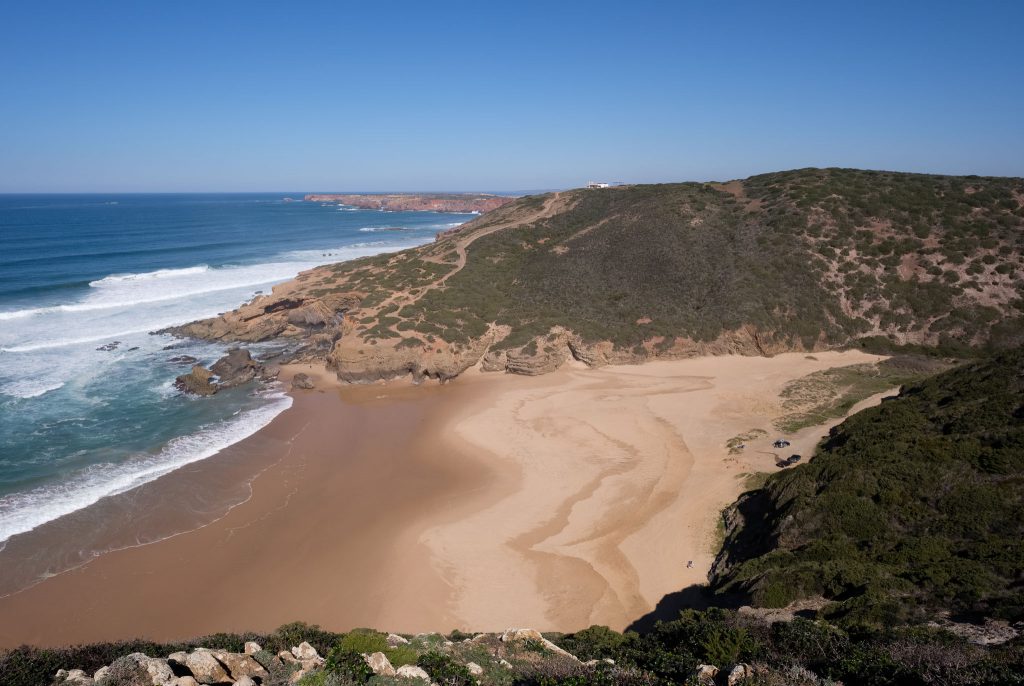 As I mentioned before, there are many interesting geological features in the area, especially in Murração. If you can, spend some time in the beach looking at these dark Carboniferous rock formations, that have been folded and compressed about 300 million years ago. Also noteworthy are the abundant volcanic dykes that have intruded these host rocks, and provided an interesting color contrast along the cliffs.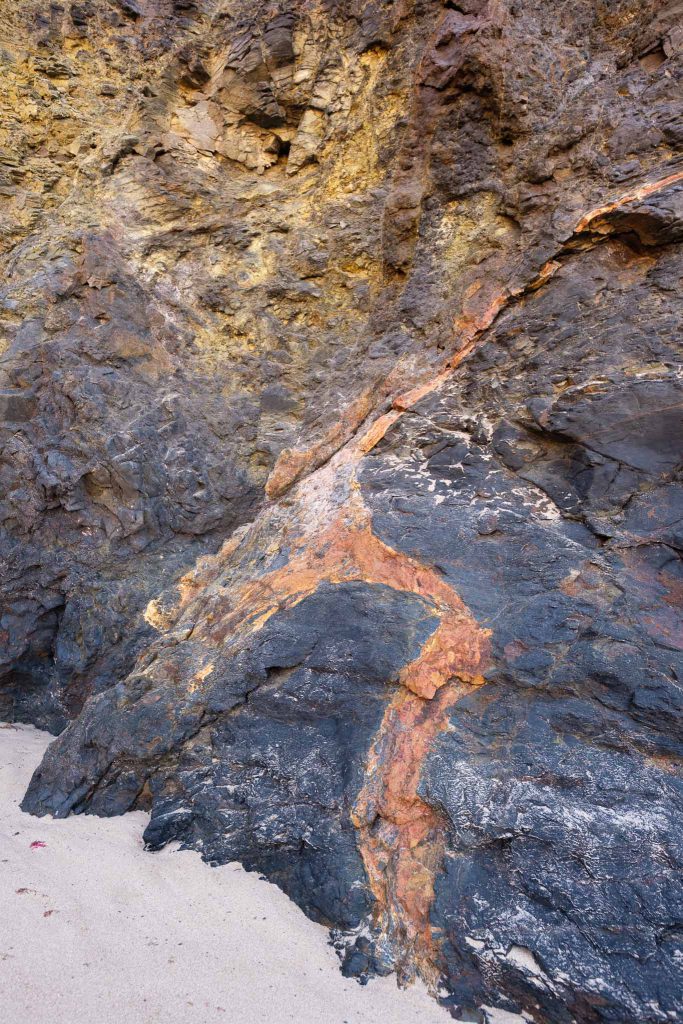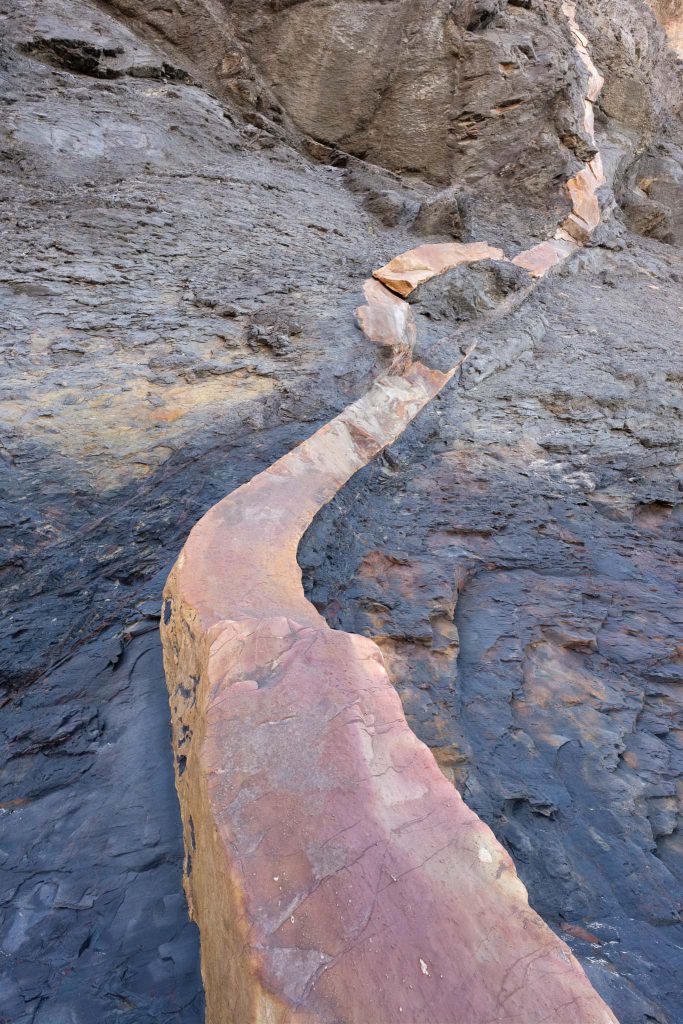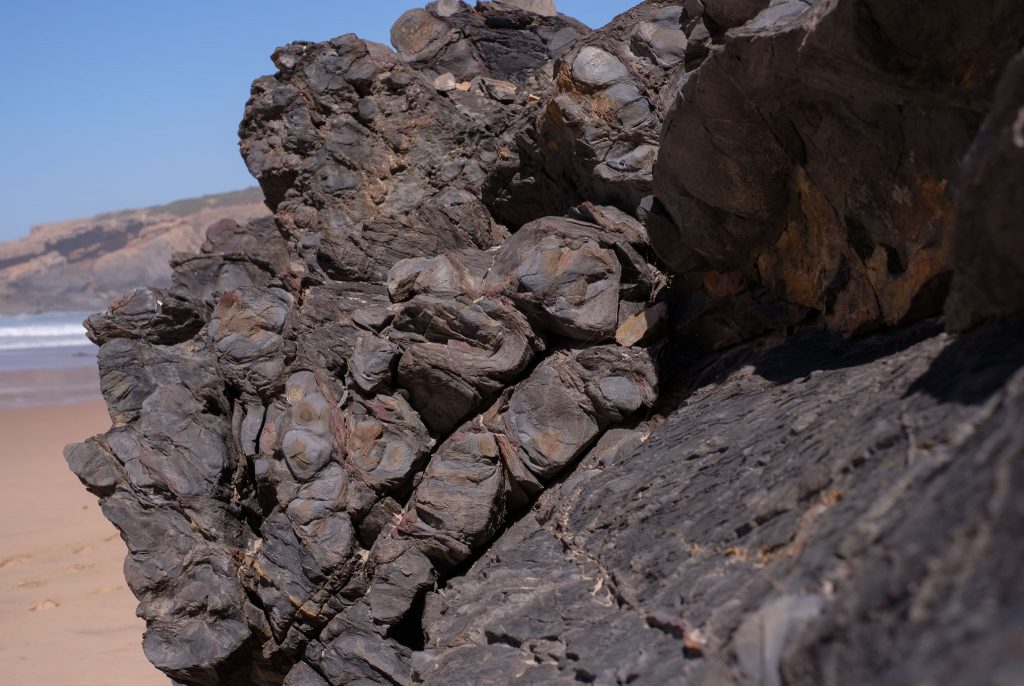 This beach is also an excellent spot for a picnic lunch. A few people were also around, even risking a dive in the cold and rough sea. As I was lying down resting for a while, the Sun started to illuminate the vertical cliffs, adding a nice effect of hazy light and local mist.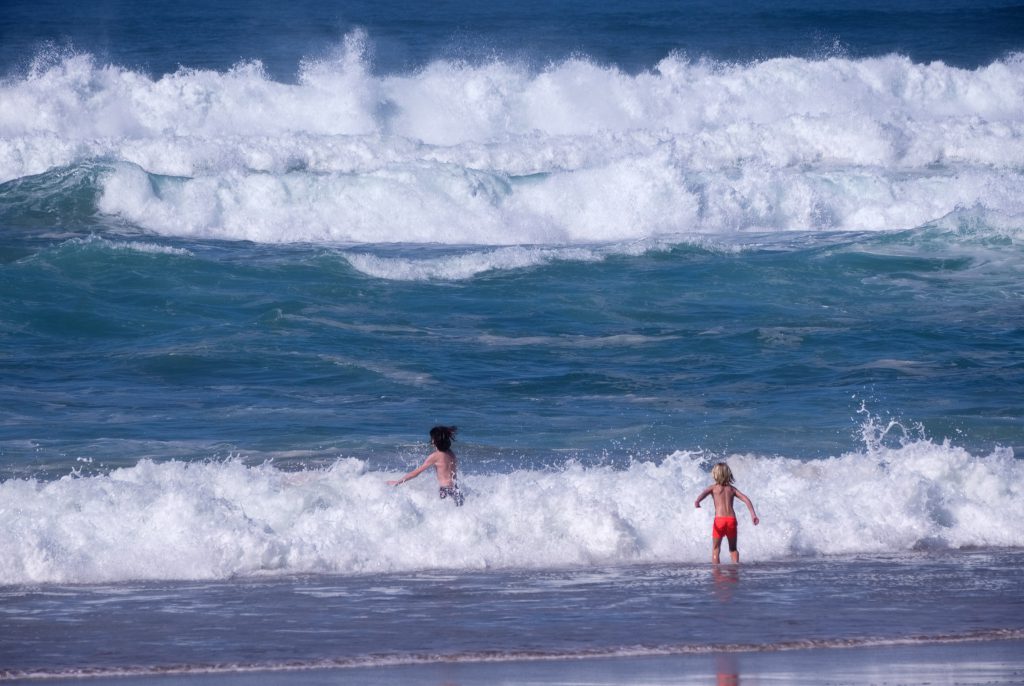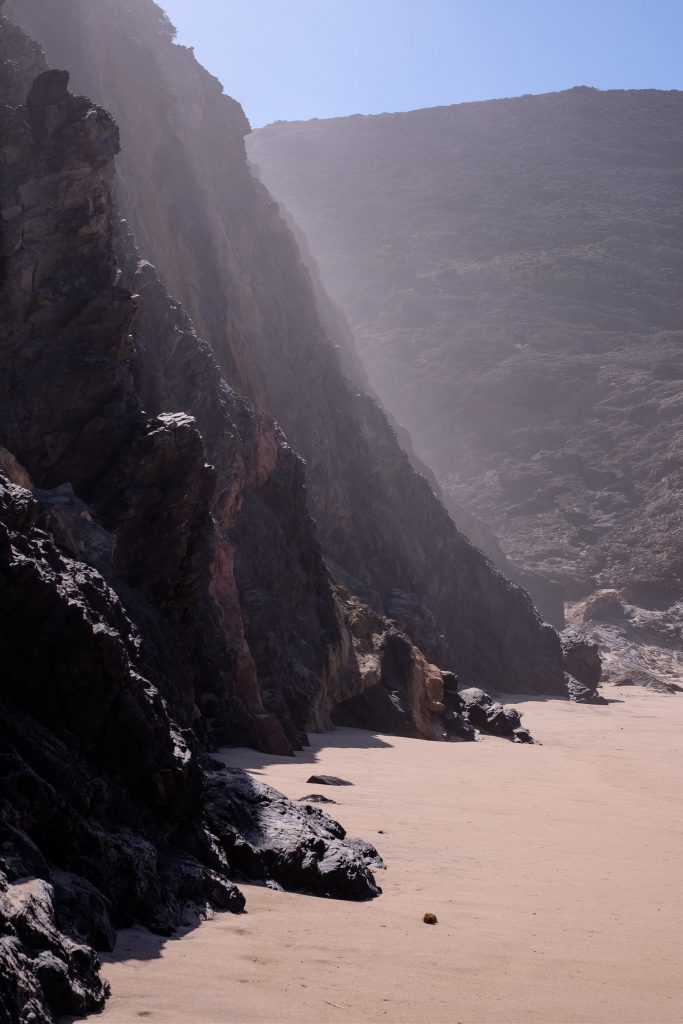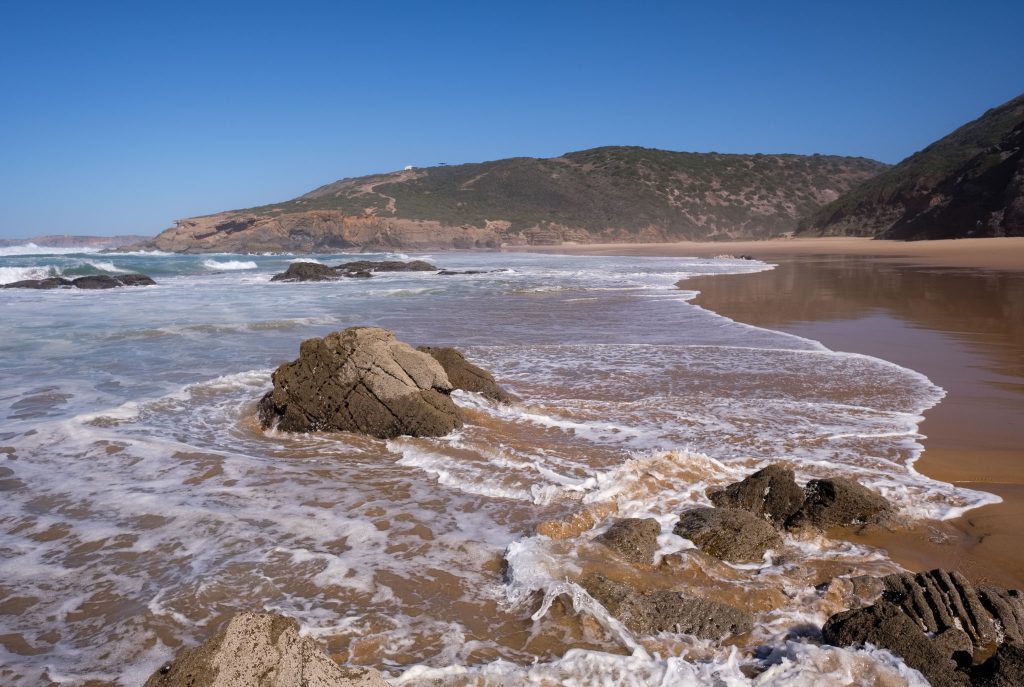 From here on, it is an easy walk back to Amado, with more opportunities for photos along the way. The sea was rough with some nice waves, so I spend some time trying to catch some in camera. The view looking southward is also very scenic, with the tall black cliffs adding a lot of mystery.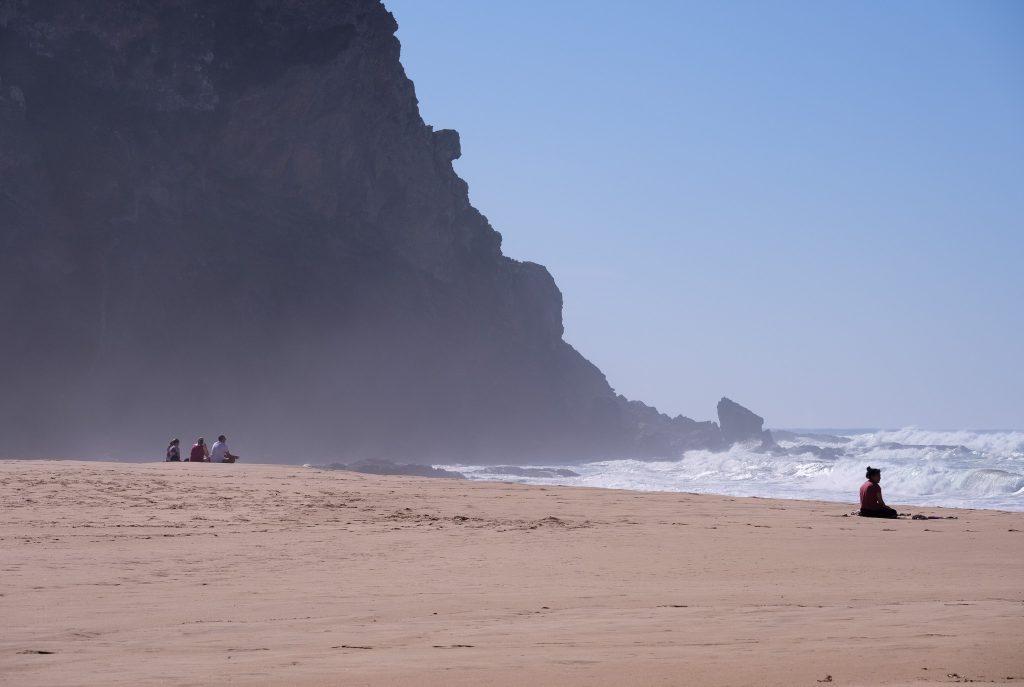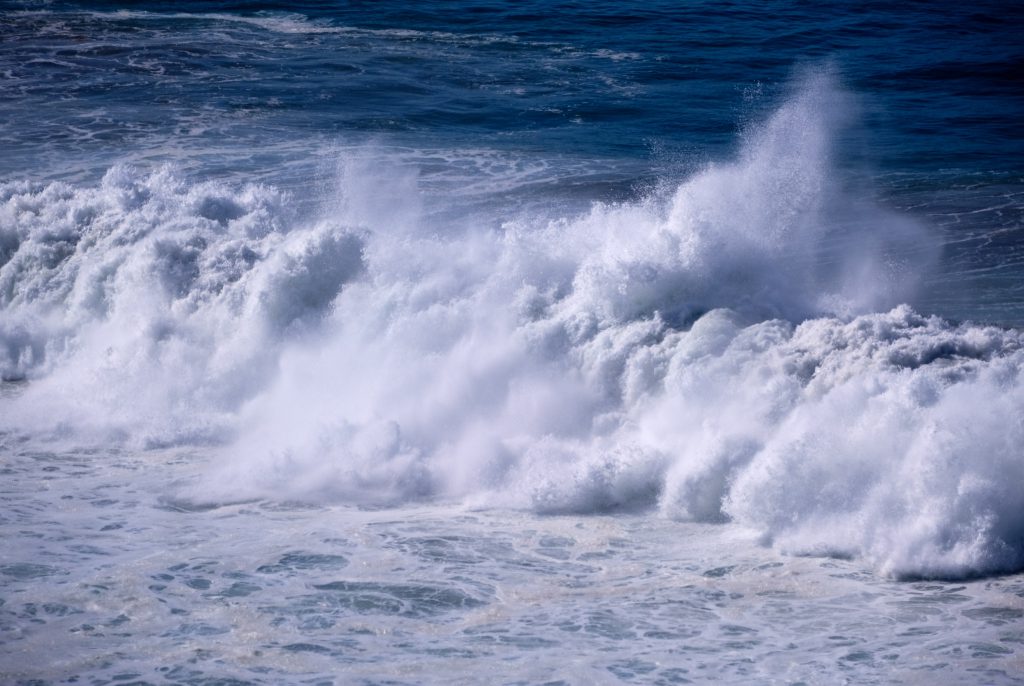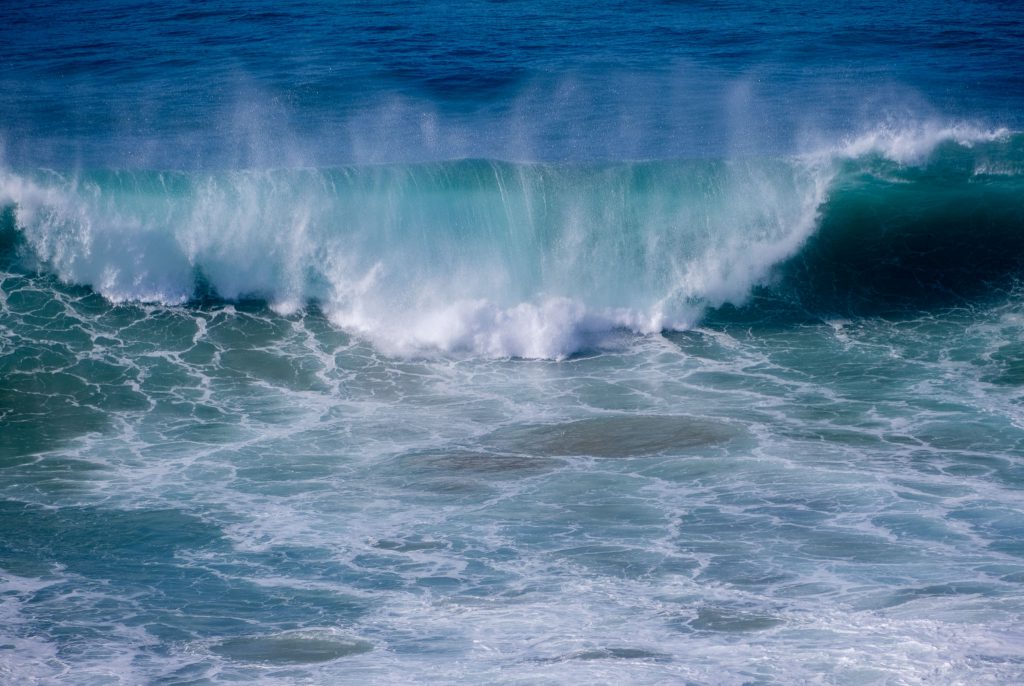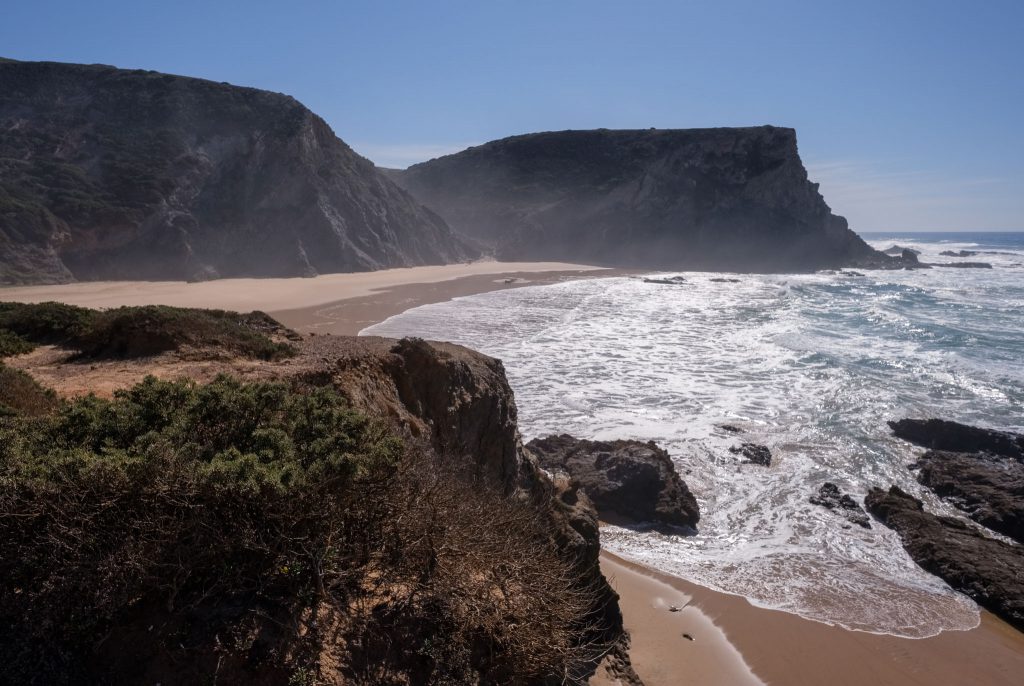 After a while, I was back at Amado beach, where I made a few more photos. On the southern part of the beach there are some interesting sand dunes. You do need to pay attention to the tide if you want to venture closer to the cliffs and tidal pools.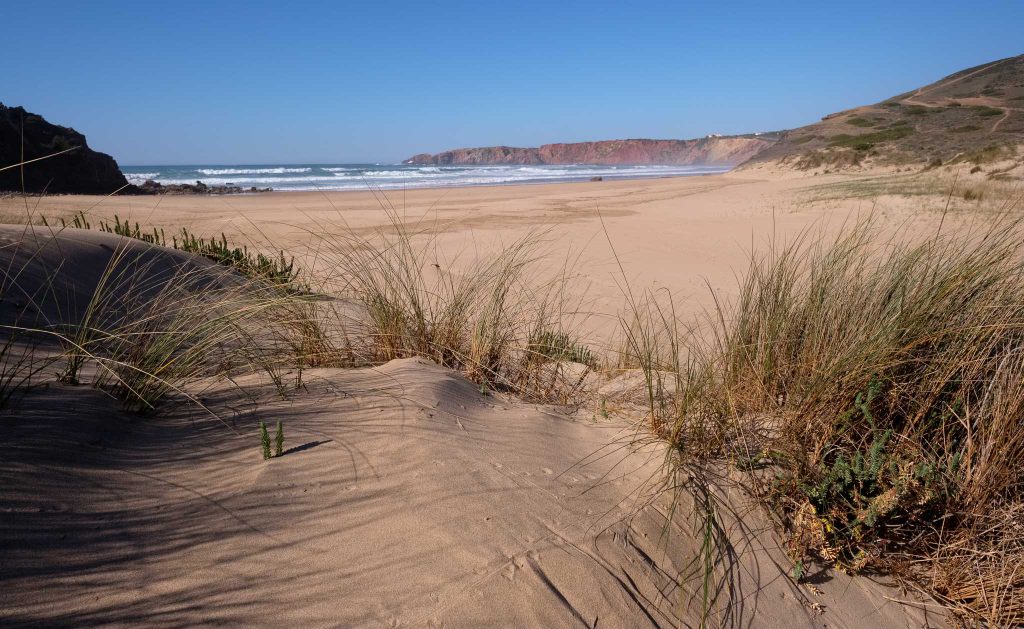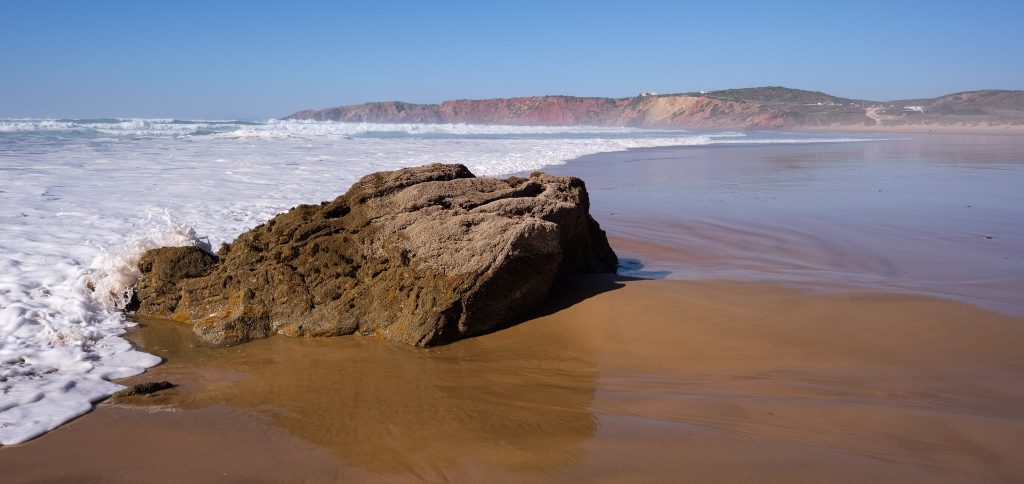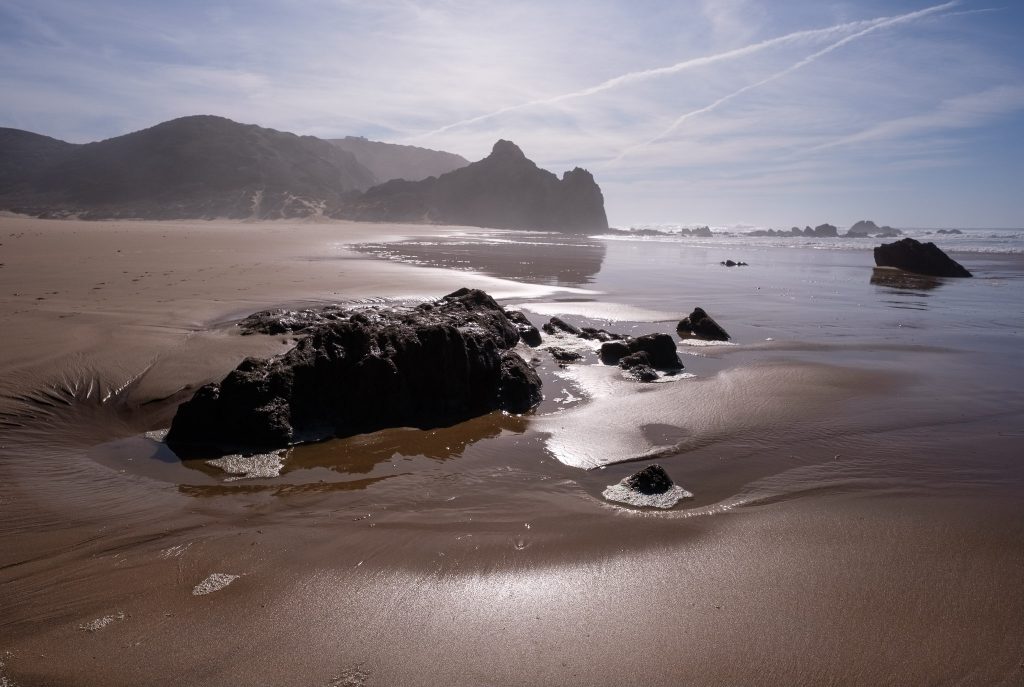 This is another wonderful trail walk that crosses beautiful hilly and coastal regions, that are so typical of the Vicentina coast. It is a short distance, but there are plenty of interesting things to see and photograph. Speaking of photography, for this walk I carried more than my usual Fujifilm kit: 3 cameras and 3 lenses, from wide-angle (14mm) and standard (35mm) to a telephoto zoom (70-300mm). This was because I knew I would use them all, given the variety of subjects. Still, all the gear fitted nicely in the bottom compartment of my backpack, leaving the top compartment for food and drinks.